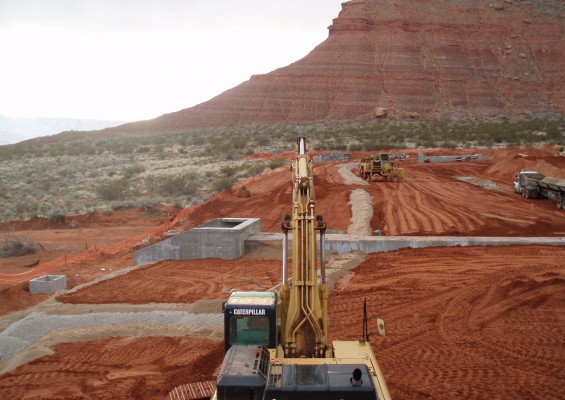 Ivins City Tuacahn Wash Upper Detention Basin
Project:
Ivins City Tuacahn Wash Upper Detention Basin
Client:
Ivins City
Description:
Alpha Engineering has been working with Ivins City on the Tuacahn Wash improvements in various phases for over 10 years. Projects completed on Tuacahn Wash include the design of riprap for a section of the Tuacahn Wash within Ivins City, design of culvert crossings on Center Street and Tuacahn Drive, and the ongoing design of the Tuacahn Detention Basin. Design work included completion of a hydrology study and HEC-RAS analysis of a section of Tuacahn Wash.  In addition, RB&G Engineering was selected to assist in the geotechnical design of the earthfill dam structure and construction observation. The dam is an earthfill dam with internal filter and is 18 feet tall with a holding capacity of 36 acre-ft. Design included a trash rack and outlet works with a reinforced concrete energy dissipation structure. This facility has been classified as High Hazard by the State Engineer and the design has been coordinated and approved by the State Dam Safety office. The Alpha/RB&G Team provided full-time project management and inspection of the construction.
Pictures: